日本人の奥さんを持つ根っからの親日家ベーシスト、ロビーがバンドの近況やいろんな情報を教えてくれる人気コラム「ROBBY'S LOBBY」!誌面から1月遅れで彼が執筆した英文ママの掲載です。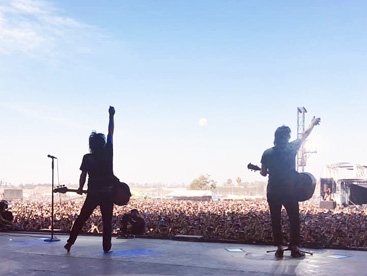 ---
Hey hey In Rockers and Welcome to The Lobby, our monthly chance to catch up here in the pages of the Mighty In Rock! I've been pulling my life together for the upcoming GGDS tour. I've been at home for the past few weeks as our Summer North American tour draws closer and at least here in The US the limitations and restrictions we've been living under for the past couple of years are being lifted.
I've been traveling a bit for business and holidays as well, I was on a plane flight 2 days ago when a passenger stood up and yelled "You can all take your masks off!", apparently he had gotten an alert on his phone that the government here in the States had lifted the mask mandates for travel. I looked around and everyone just seemed confused, I think after a couple of years of living and traveling with masks most people (including myself) opted to stay masked and I think that's probably not a bad idea in such close quarters. Mask mandates are a huge issue of debate here in the US as mask wearing is not really a part of our culture as it is in Japan, I was hoping this experience with the pandemic would change that attitude as we will probably face more of these types of situations as time goes on. But for now, and thankfully, we are on our way to a normal summer of music, friends and celebrations of life.
I spent a little time in the Florida Keys with my family this month, snorkeling, hanging at the beach and just having some vacation time as my daughter had some time off from school for their annual Spring Break. I've been to most places here in the US having toured with my band for over 3 decades, but I had never made it to the southernmost point of the US in Key West Florida. the Florida Keys are a chain of small islands off of the tip of the continental US. All of the islands are connected by a series of long bridges, the longest of which stretches 7 miles between the dots of land. It's quite an experience to barely see the land on either side of your car as you make your way through the ocean….. just weird. We had a great time just eating seafood, relaxing on the beach, swimming in the ocean and lagoons and visiting some of the local tourist attractions including an interactive aquarium with stingrays and sharks. One afternoon we went out on a boat into the ocean and went snorkeling on a large reef with my 10 year old daughter. It was her first time ever in deep ocean water and she did great job in the big waves of the Atlantic Ocean, we saw schools of fish a bunch of large tropical fish, we even got to see some dolphins in the wild and caught a glimpse of a shark while we were in the water.
The new Goo Goo Dolls album is done being recorded and is being mixed as we speak in various locations around the country. It's never easy, but I guess if it was everyone would do it right ? We're busy doing some private shows this month and have some fun festival appearances coming up over the next month including West Palm Beach's Sunfest celebration which we've performed at many times over the years. Can't wait to get back on a proper tour, there's so much time to make up for! Our Buffalo Cherry Blossom festival is next month and I and the Music is Art organization will be helping the planners and performers out at the event, and I'll be bringing my friends from In Rock right along with me in next month's edition of The Lobby!
Til then ….
Peace !
Robby

●グースのサイトはこちら!
www.googoodolls.com

●ロビーのサイトはこちら!
http://robbyslobby.weebly.com/